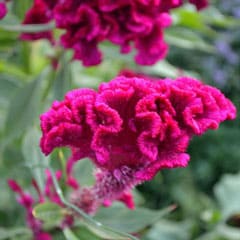 New to our 2012 catalog is the Burgundy Cockscomb (Celosia cristata) flower. This amazingly beautiful heirloom flower has a very interesting story. Celosia comes from the Greek kelos meaning "burned" referring to the color of the prototypical flower.
Native throughout the tropics, it was the dark red-colored C. cristata that was first introduced into Europe in 1570. In 18th century Britain they were segregated as potted plants, but at the same time they were eagerly embraced into colonial gardens in America. Always interested in unique plants, Thomas Jefferson recorded sowing cockscomb (probably the crested one) at Shadwell, his boyhood home, in 1767 and later at Monticello. Thomas Bridgeman published his Florist's Guide in New York in 1838 and recommended the "crimson and yellow" Cockscombs. By 1928 L.H. Bailey noted 8-9 well-marked colors in either tall or dwarf forms, the chief colors being red, purple, violet, crimson, amaranth, and yellow. Cockscombs became popular at county fairs, the object seeming to be to produce the greatest crest on the smallest plant; one report of 1928 recalled an award winning specimen bearing a 21" crest.
Cockscomb loves the sun. It prefers warmth and likes a generous root area. The roots must be kept moist, if the plant dries out the flowers will tend to drop. They are easy to grow from seed and do well in pots as well as in the garden. Hardy and resistant to most diseases, they prefer full sun and well-drained soil. The leaves and young flowers are used as vegetables in India, West Africa and South America. Here in America it is used mainly for garden borders for its striking colors and flower arrangements, both fresh and dried as the flower retains its vibrant red color when dry.
http://www.underwoodgardens.com/wp-content/uploads/2012/02/BurgandyCockscomb.jpg
240
240
Stephen Scott
http://www.underwoodgardens.com/wp-content/uploads/2017/01/Terroir-Seedsheader12_29_15.jpg
Stephen Scott
2012-02-09 09:22:34
2016-01-03 14:36:25
Burgundy Cockscomb - A Striking Heirloom Flower