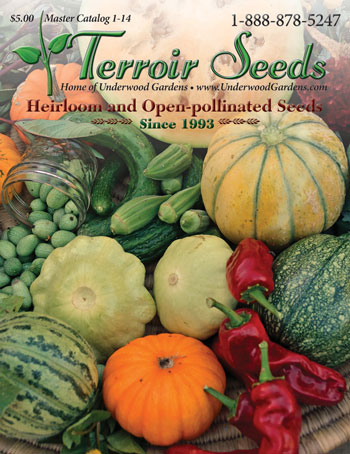 Our Heirloom Seed Master Catalog is available in both a free electronic format and good old-fashioned paper format that we're happy to mail to you. The Terroir Seeds Catalog is an award-winning heirloom seed catalog that has over 600 varieties of heirloom vegetables, herbs and flowers. We also feature proven tools, books and more.
Are you looking to purchase our seeds, books or tools? Please visit our Online Store!
The paper catalog is $5.00 and includes first class postage. You will receive a coupon for $5.00 redeemable on your first order over $20.00 from us. Yes, this makes the catalog free on your first order!
Not quite ready to spend $5.00? Read the electronic version below, and get to know us better through our Newsletter. Read our previous Newsletters and sign up to receive the next one in your email.
Get The Electronic Catalog Here