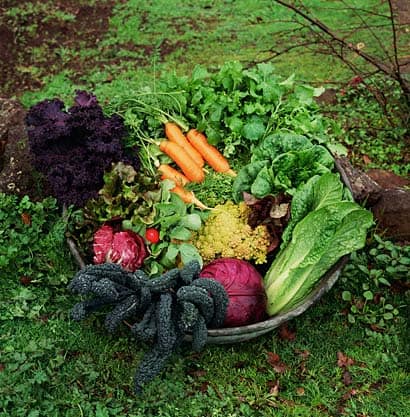 Fall and Winter Gardening- Plan in the Summer for Cool Season Harvests
Many people, when asked about Fall and Winter gardening in the height of Summer, will want to wait a bit before planning and planting anything for the Fall. Yet, that is exactly what you must do to have a spectacular cool season garden that delivers loads of delicious, crispy vegetables when everyone else's gardens have stopped.
Much like the concept of succession planting, Fall and Winter gardening is somewhat counter-intuitive, as many gardeners have grown up with the traditional "Plant in Spring, harvest in Fall" concept. There is much more to the home garden, both in the amount of food that can be produced, and in the number of seasons that food can be grown in.
For example, most home gardens throughout North America can grow vegetables for 3 seasons a year, up to 8 or 9 months with very little change to your current garden setup. With a little more structure, growing year-round is entirely possible. Don't believe me? Eliot Coleman is perhaps the best known spokesman for year-round vegetable production. Living on a small acreage in Maine, he has been successful in growing almost around the year since the late 1970s. Once he developed the systems that work for his farm, he routinely out-produces farms that are 3 times his size. If this is possible in Maine, a state not known for it's long growing seasons, can it be possible in your garden? Absolutely!
Planting is generally done from 8-10 weeks prior to the first frost of the season, giving the seedlings a head start before the weather turns cooler. A great guide to the first and last frost dates by zip code is from Dave's Garden. Click on the link, enter your zip code, click "Go" and you'll see a chart. This shows both first and last frost dates by percentage, based on historical data from the weather stations listed in your area. Different temperatures are listed as well- 32, 28 and 24 degrees F, which give useful information on how hard the frost/freeze is by what date. For instance, here in Chino Valley the Spring planting date is usually after Mother's Day- May 7. This corresponds with the 40% 32F frost date of May 8- after this date there is less than 40% chance of a frost to 32F, and it is usually safe to start planting.
For Fall planting, simply work backwards from a few known details. You need to know the average date of the first killing frost and the number of days to maturity for the variety you are growing. The following formula will give you what you need-
Number of days from planting seeds to harvest (outside)
Number of days from planting seed to transplanting (if you grow your own seed)
Add average days to maturity (harvest time frame)
Add Fall weather factor (usually about 2 weeks)
Equals the number of days to count backwards from first frost date to ensure good garden production
The number of days from seed to transplant will only apply for those crops that are started inside as seeds, then transplanted into the garden as seedlings. A good rule of thumb is to add 5 days for sprouting the seeds. Many of your fall crops will benefit from being pre-sprouting inside under controlled conditions, then transplanting them into the garden as young seedlings. This process is very similar to traditional tomato and pepper seedlings, but not as long, as the seed is transplanted as soon as it is an inch or more above the soil. Plant these seeds a little deeper than normal, so they don't dry out as quickly once transplanted into the garden. A thick layer of straw mulch will help get them off to a great start, helping to retain needed moisture. Remember, these are being transplanted in the heat of the Summer, so they will need different protection than those planted in the early Spring. The Fall weather factor takes into account the slower growth from cool weather and short days in the fall, and is usually about two weeks.
For example, our 50% chance of frost to 32F is Oct 21, the Bull's Blood Beet is a 55 day beet, we add 5 days to pre-sprout the beet for transplanting, and 2 weeks for the Fall weather factor. This adds up to 74 days; 55 days for the beet + 5 days to pre-sprout + 14 days Fall weather factor = 74 days, or 10 1/2 weeks. So counting backwards from Oct 21 10 1/2 weeks prior to this is August 7 or so. Thus- the planning happens in July, order seeds mid to late July and plant the beginning of the second week of August. This gives us a couple of hedge factors, as the 32F date is at 50%- meaning a medium chance of a lighter frost, which will usually give us a week or more past that. We don't count on it, but will use it if given the extra time. This is where the Garden Journal will come in handy, as you can record the frost dates for use in the coming years. Another hedge factor comes into play when planting fast-maturing varieties- this gives you an extra edge in time over slower maturing ones.
Do the math for each variety you want to plant, or use the maturity date ranges to plan the planting dates.
Now that you know when to plant, what should you plant? The obvious answer is to start with what you like to eat and go from there. The list of what will do well in the Fall garden is pretty extensive- many familiar and some not so much. Kale, beets, carrots, Swiss chard, leeks, spinach, lettuces garlic and onions are pretty easy. Maché, radish, mustard greens, kohlrabi, parsley, radicchio, sorrel, turnips and cress are not so familiar to most gardeners, yet are delicious and extremely nutritious. Take a look at our Fall and Winter Gardening selection of seeds for some ideas that will spark your creative and cooking juices!
Succession planting comes into play here, especially if you are able to utilize some row covers or hoop house type structures that will extend your growing season even more. Eliot Coleman starts his winter-harvest planting on August 1 in Maine, and continues planting through out the Fall. This gives the same benefits as succession planting at other times of the year- an extended harvest of fresh greens. The French have had several hundred years of experience in this, as well as the intensive gardening process- they will sow radish and carrot seeds together, and pre-sprouted lettuces are planted at the same time. The radishes are harvested first, which makes room for the carrots between the lettuces. Once the lettuce is harvested, young cauliflower sets would be transplanted among the carrots. When the carrots are gone, the cauliflower have the run of the ground to mature. This is how the small market gardeners around Paris supplied the city with fresh food from very small spaces in relation to the size of it's population.
How to integrate this into your existing garden? That's the easy part! As veggies are harvested, this opens up space for the Fall and Winter planting. The ideal place to start the cool season planting is in rows that have fast-growing vegetables- lettuces, carrots, beets, radishes, etc. to use the space opened up from their harvesting. Most cool season gardens are much smaller than those in Spring and Summer, so don't be concerned that you will need to re-plant your entire garden. Start small and go from there. See what works, what you like and adjust the size accordingly.
Using this information, you now can confidently plan, plant and harvest some of the tastiest vegetables and greens from your own garden! Many of the varieties that do well for Fall gardening gain flavor as the weather turns cool. Some get sweeter while others add complexity to their flavor profile, and you won't be able to find these flavors anywhere else.
http://www.underwoodgardens.com/wp-content/uploads/2011/07/Fall-Garden-Basket.jpg
417
410
Stephen
http://www.underwoodgardens.com/testsite/wp-content/uploads/2015/12/Website-Header-300x148.png
Stephen
2011-07-13 13:59:43
2016-07-08 17:39:54
How to Plan for Fall and Winter Gardening